Formerly Kasaragod district was part of South Kanara district of Madras state. After the States reorganisation on 1st November 1956, Kasaragod taluk was made part of the re-organised Malabar district of Kerala state. Two months later, on 1st January 1957, the present region covered by Kasaragod district became a part of the newly formed Cannanore (later renamed as Kanoor) district. Along with it the erstwhile Kasaragod taluk was bifurcated into Kasaragod and Hosdurg taluks. In 1984 Kasaragod became a new district with Kasaragod town as its headquarters.
District Formation:
The formation of Kasargod District was a long felt ambition of the people. With the intention of bestowing maximum attention on the development of backward area, Kasaragod district was formed on 24th May, 1984.
With the formation of the district, comprising the erstwhile Kasargod and Hosdurg Taluks. It has become possible to develop this area fruitfully. Kasargod consists of the hill tracts villages in the eastern side and costal villages in the western side and it is the 14th district in the State.
Collectorate: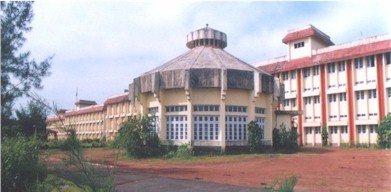 The Collectorate functions at Vidyanagar in Chengala Panchayath, which is 5 Kms. from Kasargod town.
Subjects dealt in the Collectorate:
*Revenue Establishment, Law & Order, Arms Act & rules, Explosive Act & rules, Govt.Building, PRB Act; Salary bill, LPC, vehicles, GPF, Natural calamity, Drought, Chief Ministers Distress relief fund; Secret and confidential matters, Disciplinary action; * Revenue Recovery,Land Assignment, *Election, Building tax, Inspection and audit;*Trees, Encroachment, mines and mineral, National Family Benefit Scheme, Lease, Freedom fighters pension, etc.,Housing scheme;*Excess land, Land Tribunals, Devaswam LT etc.; *Record, office purchase, stationery, etc. ,Suit, Govt. Pleaders etc., Land acquisition and allied matters; *Survey section ; *Fair copy & Despatch,E.Mail

Revenue Administration:
For revenue administration, Kasargod district is divided into two taluks, five firkas, and 75 villages. The only Revenue Division in the district is Kasargod and the office is at Kanhangad.

Taluks: Click
The district has 2 taluks :-
Kasargod Taluk & Hosdurg Taluk
District Panchayat:

The Kasaragod District Panchayat has 15 constituencies.
Manjeshwar - Badiadukka- Karadukka- Bedadukka- Balal - Pilicode - Trikaripur- Nileshwar - Bellur- Ajanoor- Uduma- Cherkala- Madhur- Kumbala- Uppala

Block Panchayats:
The Kasargod District has 4 Block Panchayats.
Manjeshwar, Kasargod, Kanhangad, and Nileshwar

Grama Panchayats:
There are 39 Grama Panchayats in Kasargod District.
Bellur, Kumbadaje,Mangalpady, Vorkady, Puthige, Meenja,
Manjeshwar, Kumbla, Paivalike, Enmakaje, Badiaduka, Karadukka, Muliyar, Delampadi, Chengala, Chemnad, Bedadukka, Kuttikole, Madhur, Mogral Puthur, Udma, Ajanur, Balal, Kodom Bellur, Madikkai, Pallikkara, Panathady, Kallar, Pullur Periya, Cheruvathur, Kayyur Cheemeni, Neeleshwar, East Eleri, Pilicode, West Eleri, Trikkaripur, Kinanur Karinthalam, Padanna, Valiyaparmaba.

Municipalities:
The Kasaragod district has 2 Municipalities
- Kasaragod and Kanhangad

Parliament Constituency:
There is only one Parliament Constituency. This constituency consists of seven Legislative Assembly segments. They are Manjeshwar, Kasargod, Udma, Hosdurg, Trikkaripur of Kasargod district; and Payyannur, Taliparamba of Kannur district.